Fake News about Nature's Recovery
The Wildlife Trusts are getting a lot of media enquiries wanting evidence of nature returning while everyone has to stay at home during the coronavirus lockdown. While it's clear that those goats in Llandudno had fun – and some ground-nesting birds will benefit from less disturbance – it's simply not true that nature is recovering.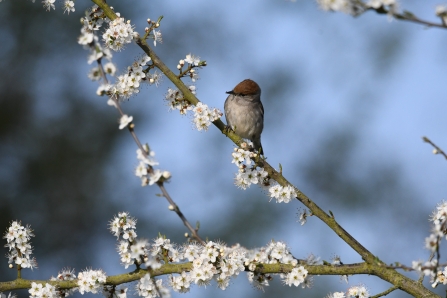 What we're seeing is gorgeous glorious Spring – and many of us are noticing it more than usual because we're at home and watching it, revelling in it, seeking solace in it in our gardens and neighbourhoods. We can probably hear it better too because there's less traffic. We're really delighted that people are tuning into nature and we hope it'll become a rediscovered pleasure and habit for us all. The Wildlife Trusts are helping people do this from home – there's been enormous interest in our wildlife activities that we've put online, from craft sheets to webcams showing nesting barn owls, ospreys and others all around the UK. Being in nature makes us feel better and we know – we have the evidence – that it's good for health and wellbeing. This is why it is so important that people continue to connect with nature in their daily routines, so it becomes a part of all our lives, no matter what the circumstances.
The truth is the UK is still one of the most nature-depleted countries in the world and it's business as usual out there, including in the 70% of our land that's farmed. So, we still need the right policies in place to restore it all – namely an Agriculture Bill that rewards farmers for being nature-friendly, an Environment Act that sets ambitious targets and a Nature Recovery Network mapped out by local authorities.
Coronavirus is having a devastating effect on The Wildlife Trusts and their ability to do vital conservation work. Our 38,000 volunteers are staying at home so beautiful places and important habitats are not getting the level of management they need, for example they're not out there pulling out invasive species like himalayan balsam or monitoring rare species. All visitor centres and some nature reserves have had to close, such as islands like Skokholm and Skomer, and this is having a seriously adverse effect on Wildlife Trusts' income.  The Wildlife Trusts need people's support more than ever.