58 years of nature conservation
Our vision is of people close to nature in a landscape rich in wildlife.
Who we are and what we do
Gwent Wildlife Trust is a charity dedicated to nurturing and restoring our wildlife, part of a network of Wildlife Trusts across the UK. For almost 60 years, we have been the leading conservation charity in Gwent, protecting wildlife and our natural environment, working to educate and empower people to understand and care about the natural world wherever they live, and influencing governments and others to make our corner of Wales a better place, richer in wildlife and more enjoyable for all.
Gwent covers: Newport, Monmouthshire, Blaenau Gwent, Torfaen and the eastern parts of Caerphilly.
We own and manage over 33 nature reserves covering 449Ha, all freely open to the public, and support other landowners and communities to manage land for wildlife. We have around 7,500 members and 170 volunteers, and have local groups that run events and engage with local members.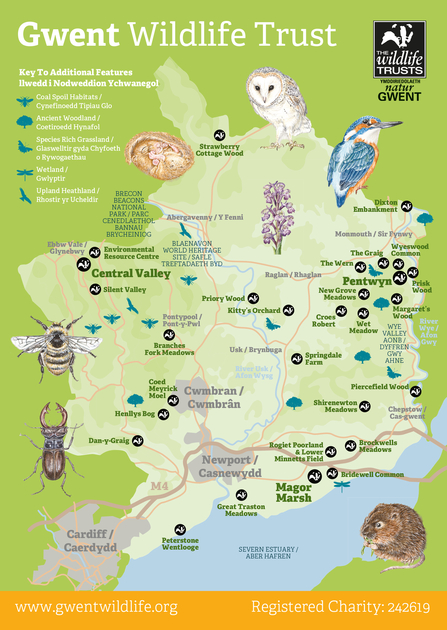 Our mission is to stem the decline in biodiversity whilst addressing the climate crisis that threatens Gwent's people and wildlife.
The Challenge
Our mission is to stem the decline in biodiversity whilst addressing the climate crisis that threatens Gwent's people and wildlife. We will stand up for wildlife and promise to sustain our enthusiasm and effort for the long-term benefit of nature. We are driving a people-powered nature recovery that is informed by science and encourages diversity and participation for all. We are sustained by our vision of people close to nature in a landscape rich in wildlife.
Report after report has shown the devastating loss of wildlife in recent years. Across the UK, the average abundance of wildlife has declined by 13% since 1970. Over 600 species are threatened with extinction in Wales. Nightingales no longer nest in Gwent and the sound of the cuckoo is becoming scarcer and scarcer.
Wildlife and wild places are becoming more important to people than ever. The Covid-19 pandemic increased the number of visitors to our reserves and many have told us how visiting these natural havens has benefitted them personally.
Visitor numbers to Magor Marsh in June and July went up by 53% between 2019 and 2020.
There is so much that needs to be done, and we are determined to play our part, guided by our core values of integrity, inclusiveness and dedication. Wherever possible we will face the issues head-on and address the root causes such as habitat loss from unsympathetic development, over-intensive farming and carbon-induced climate change. But we are a local charity and our strength is taking local action. We will continue to work with others to create more, bigger and better-connected spaces for nature. We will help empower people across Gwent to make the case for nature and natural solutions in their communities. We need to raise public awareness of wildlife and improve accessibility for all.
No-one will protect what they do not care about and no-one will care about what they have never experienced.
Our Strategic Priorities 2021 - 2031
The canvas here is large and challenging but we will focus on two priorities: helping nature to recover; and helping nature to help us.
Making it happen
We are a fairly small charity with limited resources. We cannot do everything and cannot do it on our own. In order to be most effective we will:
Seek to grow our resources sustainably: more income, more members, and more volunteers since we cannot do our work without them;
Ensure our Trust is well governed and financially secure;
Manage our land and buildings effectively and reduce our carbon footprint;
Support the wellbeing and training of our staff and volunteers thoroughly so they are able to focus on delivering this strategy;
educate and inform our members and the wider community of our vision, mission and values, so they can support our work and be our advocates;
Work closely with like-minded bodies to achieve a strong voice for nature;
Embrace digital platforms to communicate effectively with a wide range of people;
Measure and evaluate our impacts.
This strategy will be taken forward in detail by an annual Business Plan that will set out specific objectives and performance indicators.