Perfect Pollinators
Did you know that pollinators need our help? We will show you how amazing pollinators are and what you can do to help them. This page contains information and resources to help you bee friendly and make everything betterfly.
When we say pollinators, we don't just mean bees! Bumblebees, honey bees, solitary bees, wasps, flies, moths, butterflies and beetles are all pollinators.
Insect pollinators are vital to life on earth - they pollinate more than 80% of flowering plants. That means that they help to create and maintain habitats and ecosystems that many other animals rely on for food and shelter, including us!
1 in every 3 mouthfuls of our food requires insect pollination
Pollinators contribute £690 million to the economy annually. If we tried to replicate pollinating our crops it would cost about £1.8 billion every year
50% of bumblebee species are declining; 41% of moth species and 57% of butterflies have declined since the mid-1970s
Why is this? Well, there are a number of factors at play, but mostly, loss and fragmentation, or breaking up, of habitat is the main reason. This means that there are fewer places where pollinators can survive, with fewer nectar rich plants to feed from. 
We have lost 97% of our wildflower meadows since the 1930s
Watch one of our videos
We've created three videos to showcase the importance of pollinators and how you can help in your school and community group or how you can influence decision makers in your area.
How to help at your school
How to help in your community
How to help if you are a decision maker in local government or a land owner 
Butterfly shelters
We installed some butterfly shelters as part of the project. Examples of which can be seen at Parc Bryn Bach in Tredegar and Mardy Park in Abergavenny. Why not go and take a look?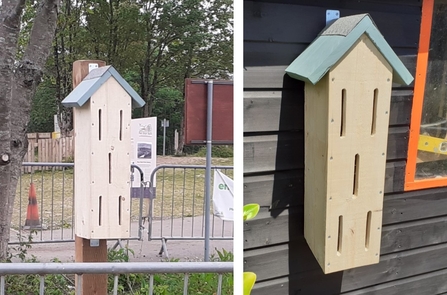 Resilient Greater Gwent Partnership
This pollinator project was funded by the Welsh Governments Enabling of Natural Resources and Well-being Grant through the 'A Resilient Greater Gwent' work programme. Working towards a South East Wales where nature is in recovery and sustainable communities value their landscapes and wildlife and get involved for their own health and well-being.