Art Meets Ecology book launched
Recently published book Art Meets Ecology takes a fresh look at Lady Park Wood through the eyes of artists...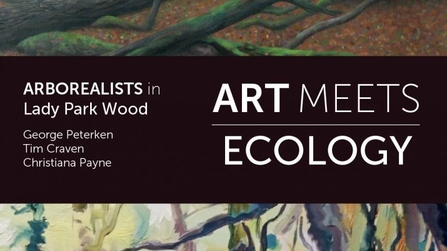 The book delves deep into this ancient, semi-natural wood on the slopes and cliffs of the Wye Gorge in Monmouthshire. Uniquely, Lady Park Wood has been sealed off and left untouched and unmanaged for seventy five years as a scientific study. Elm disease, the great drought of 1976, storms, snow and now ash disease have taken their toll on the ageing beech, oak, lime, ash, yew and hazel, many of which now lie prone in great heaps of decaying wood and re-growth.  The fortunes of hundreds of individual trees are being tracked and recorded by woodland ecologists. 
George Peterken OBE, who has led the research since the 1980s, invited The Arborealists to draw and paint in this special place in the spring and autumn of 2017. The Arborealists are a national group of professional artists who share a passion for trees, and seventeen artists with diverse styles and practices took part in the project. George was curious to see what we would notice and respond to, and how this might relate to his perspective and understanding as a scientist.
Extensively illustrated, the artworks have been arranged by George into themes such as Wild Wood, Regeneration and Relicts of the Past with a detailed commentary from him which demonstrates how both artists and ecologists observe trees and woodland closely, yet express their understanding in totally different language. Much is revealed about Lady Park Wood through the combined images and text.
The scientist seeks to be as objective and dispassionate as possible whereas the artist knows from the beginning that his or her viewpoint is selective and personal, and embraces this.
George writes 'Foresters, ecologists, landscape historians and artists all have their own way of looking, recording and communicating their insights, feelings and concerns to others. Each group talks mainly to itself in its own language about its own fashionable concerns and thus tends to isolate itself from the others. Increasingly, however, these groups have come together, sharing their interests and broadening public appreciation for woodland and trees. And, none too soon, for woodlands and trees have shot up the political agenda as a response to gathering environmental concerns.'
The project was supported by the Sustainable Development Fund, a Welsh Government Initiative in the Wye Valley Area of Outstanding Natural Beauty. Funds were also raised by by the artists themselves and by individual book sponsorship.
An exhibition of the works continues at Monmouth Museum through 2020.
For a flavour of the wood watch George and some of the artists working in Lady Park Wood in a twelve minute film made by professional film maker Kashfi Halford including  some fabulous drone footage.