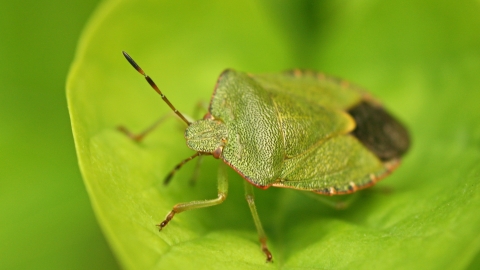 Common green shieldbug
Scientific name:
Palomena prasina
The common shieldbug was once restricted to Southern England, but has since been moving northwards and is now quite widespread. It can be found in all kinds of habitats from gardens to farms.
Species information
Category
Statistics
Length: 1.3cm
Conservation status
Common.
When to see
May to November
About
A recent beneficiary of climate change, the common green shieldbug was once restricted to Southern England. In recent years, however, it has been on the march, and is now common and widespread across much of England and Wales, and spreading further northwards. The common green shieldbug feeds on a wide variety of plants, helping to make this one species which could turn up anywhere from garden to farm. Adults overwinter and emerge in spring, laying their eggs on the undersides of leaves. The rounded nymphs appear in June and new adults are present in early autumn.
How to identify
There are two species of green shieldbug in the UK - one native (the common green shieldbug) and one that arrived very recently from Europe (the southern green shieldbug, Nezara viridula). The common green shieldbug is bright green with tiny black dots and dark wings, while the southern green shieldbug is uniformly green in colour and has pale wing membranes.
Distribution
Mainly found in England and Wales, but spreading north.
Did you know?
Common green shieldbugs do not damage plants by drawing their sap, but the recently arrived southern green shieldbug may damage some vegetables, especially runner and French bean pods. However, this species is most numerous in late summer, after the cropping period, so gardeners don't need to worry about its presence in the country just yet.
How people can help
The Wildlife Trusts record and monitor our local wildlife to understand the effects of various factors on their populations, such as the introduction of new species. You can help with this vital monitoring work by becoming a volunteer - you'll not only help local wildlife, but learn new skills and make new friends along the way.