Climate Minister tours the Gwent Levels
Gwent Wildlife Trust, the Living Levels Partnership and Wildlife Trust Wales, welcomed the new Welsh Government Minister for Climate Change to the Gwent Levels on July 1.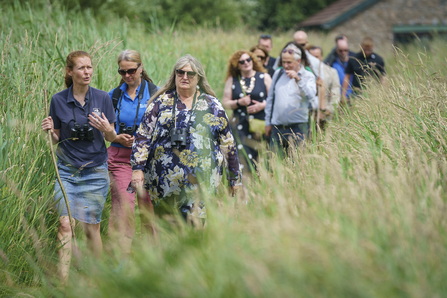 Minister for Climate Change Julie James visited the day after Welsh Government declared a Nature Emergency. 
And her visit comes just weeks after Welsh Government put a halt to all roadbuilding developments in Wales, so that its new Climate Change Ministry can conduct a wide-ranging review. 
Therefore, the Minister's tour of the Levels was both timely and fitting, as the area was for decades threatened with destruction by the now shelved plans for an M4 motorway, but still continues to face further threats from other inappropriate developments.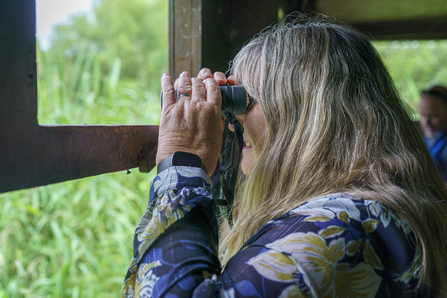 Minister for Climate Change Julie James surveying the wildlife from our Magor Marsh nature reserve bird hide
The Climate Minister's visit to the Levels included stopping off for a tour of our flagship nature reserve at Magor Marsh. She discovered more about our habitat management of the area's wildlife and its importance in the fight against climate change, when she met with GWT 's Chief Executive Adam Taylor and Head of Nature Recovery Gemma Bodé.
The Minister, who also met with Wildlife Trust Wales' CEO Rachel Sharp, staff from Living Levels Partnership and RSPB Cymru, said she was determined to further protect the internationally important Gwent Levels.
Gwent Wildlife Trust Chief Executive Adam Taylor said: "We were really pleased to hear that the Minister shared our vision of urgently and simultaneously addressing the biodiversity and climate crises, by implementing natural solutions and valuing the contributions that people make to their local communities."  
Gwent Wildlife Trust Head of Nature Recovery Gemma Bodé added: "We were delighted to show the Minister around Magor Marsh and broaden her knowledge and understanding about what a special place the Gwent Levels are for biodiversity. The Levels should be an exemplar of how when managed well, such habitats can play a vital contribution in helping to mitigate the effects of climate change, as well as creating a wonderful green haven for both people and wildlife."