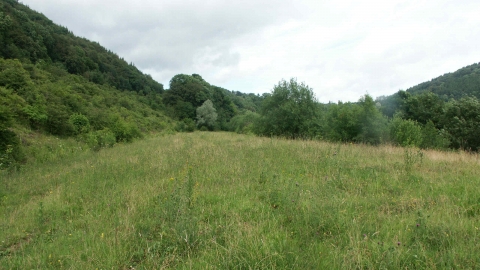 Sandwiched between the River Wye and the A40, this little gem of a grassland reserve provides a much-needed home for nature.
Know before you go
Entry fee
No
Parking information
Limited parking off the A40.
Grazing animals
No
Walking trails
The reserve does not have any specific trails or footpaths.
Access
The grassland area of this reserve is flat but can be uneven in places. The site can be accessed either through the gate at the far southern end or via steps on the eastern boundary which lead up from the 'Wye Valley Walk' path below.
When to visit
Opening times
Open at all times
Best time to visit
Spring and summer
About the reserve
Created as an embankment for the busy A40 road, the substrate laid down during its construction has given rise to an interesting blend of limestone-loving species. This reserve is managed by Gwent Wildlife Trust on behalf of the Highways Agency.
The upper banks of woodland and scrub teems with mammals, birds and basking reptiles. In spring and summer, the grassland is peppered with anthills and ablaze with a striking wildflower display of pink clovers and yellow trefoils. Despite its small size, the reserve hosts an impressive number of orchids, including bee orchids and pyramidal orchids. The abundance and variety of flowers attracts a multitude of insects, among them marbled white butterflies, white-legged damselflies and buff-tailed bumblebees.
What we do here
The management of the site involves a late summer cut of the grassland which promotes a diverse and interesting flora.
Directions
On foot
Heading north along the 'Wye Valley Walk' footpath (western bank), the steps up to Dixton Embankment are just over 3km from the Wye Bridge in Monmouth, 100m before the sign marking the border between Wales and England.
By car
Access to the reserve by car requires exiting and re-joining the busy A40. This is not advised as vehicles pass at considerable speed and there is no slip road.
Near the reserve
Gwent Wildlife Trust's Wyeswood Common, Pentwyn Farm and Prisk Wood reserves are near to Monmouth.
The 'Wye Valley Walk' runs alongside the reserve. This passes through a number of places of interest, including Severn Sisters Rocks and Symonds Yat. The historical town of Monmouth boasts The Castle and Regimental Museum, The Nelson Garden, Shire Hall and the fortified Medieval bridge over the river Monnow.