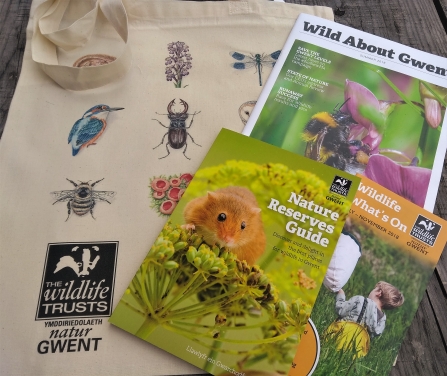 Until January 31st, 2021... you can join Gwent Wildlife Trust for half our usual minimum donation amount, when joining by annual direct debit. This offer is open to all new members joining online from December 26th, 2020 at a special promotional rate to encourage and enable more supporters during a typically quiet month for new memberships. See FAQs below.
Winter membership promotion
Join this January for half price (annual by Direct Debit only)
What happens after my first year of membership runs out? We will increase your Direct Debit to the full minimum donation amount for your membership type after the first year (and for subsequent years). You can increase or decrease your donation at any time either by letting us know on info@gwentwildlife.org or directly with your bank.
What will I receive in the post? Individual and joint members will receive the usual membership pack as pictured, containing our Nature Reserves Guide, wildlife tote bag, car sticker and magazines, which will be sent with each new issue, 3 times a year. Family membership also includes the Wildlife Watch membership pack and 3 magazines each year.