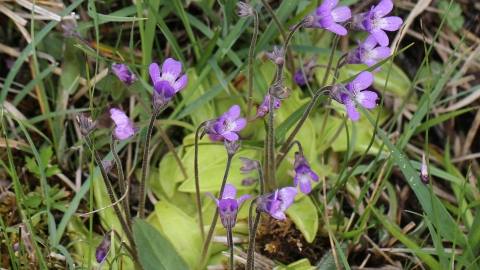 The rare plants of Henllys Bog
Location:
Henllys,
Cwmbran,
Gwent
6th July, Enjoy some unusual flowers on a guided walk around the botanically-rich Henllys Bog nature reserve.
About the event
Andy Karran will lead a guided walk around our small but botanically-rich Henllys Bog reserve. We will look at the fantastic displays of fragrant orchids and marsh helleborine, and track down carnivorous sundew and butterwort. We'll also learn how to ID many of the other plants present on site.
If you may be interested in volunteering for future botanical monitoring work, you are welcome to stay on for the afternoon when Gwent Wildlife Trust's Lowri Watkins will be carrying out a grid mapping survey and training session (no extra charge). If you stay for the afternoon, please bring a packed lunch and expect to finish at approx. 3.30pm.
Booking
Price
£15 non-members, £10 members
Additional booking information
Booking essential
Know before you go
What to bring
Pleas wear suitable outdoor clothing and sturdy footwear.