What is an Upland?
The uplands are classed as anywhere which is 200m above sea level in altitude. This dramatic hillside landscape is ever changing throughout the seasons and often sees some extreme weather such as wind, snow and ice, as well as dazzling summer sunshine. A great example of rugged uplands in Gwent is Silent Valley in Ebbw Vale. 
The uplands and in particular those surrounding the Gwent 'Valleys' areas have long been overlooked by most people with an interest in wildlife often believing them to be 'wildlife deserts' or 'sheep wrecked' but this in most cases is a long way from the truth. But you must be willing to look if you want to uncover the spectacular wild encounters that these habitats have to offer.
Silent Valley Nature reserve is a great example of an Uplands in Gwent.
As you leave the lowlands and head into the hills the first habitat you encounter is the Ffridd or Coedcae, this is the wonderful wild transitional zone above the lowland enclosed farmlands and below the upland farms and common land.  It is a varied habitat made up of a mosaic of Heath, Bracken, Woodland, Acid grassland, Wet flushes and scattered Scrub.  Due to the variety of habitat there is also an abundance of different types of wildlife such as Stonechat (clochdar y cerrig), Whinchat (crec yr eithin), Yellow hammer (bras melyn), Small pearl bordered fritillary (britheg berlog fach), Dark green fritillary (britheg werdd), common lizards (madfall)and Adders (gwiber).  There are also large areas of broadleaved woodland consisting of Sessile Oak (derwen mes di-goes), Beech (ffawydden) and Ash (onnen) with associated woodland life such as Pied Flycatchers (gwybedog brith), Siskin (pila gwyrdd), Wood warblers (telor y coed), Redstart (tingoch) and summer visiting Cuckoo (cog).  The woodland floor is annually carpeted in Bluebells (clychau'r gog), wood anemone (blodyn y gwynt), wood sorrel (suran y coed) and the trees host a variety of rare lichens.
Dotted amongst the Coedcae areas are the remnants of a post-industrial era 'Coal spoil' which now makes up an incredible habitat that in many ways mimics coastal areas with rare lichen heath and large populations of grayling butterfly (gweirloynod llwyd).  This habitat is almost unique to the south wales valleys but as time passes the habitat could be lost due to natural regeneration so visit now before its gone.  The abundant wildlife that call these areas home will make a visit worthwhile.
As you break above the Coedcae you arrive at the Uplands proper with its large open common land grazed for many years by local upland farm stock and the occasional Deer creating perfect conditions for a variety of wax cap fungi amongst other things.  These wild feeling open areas are the hunting grounds for many raptors such as Merlin (cudyll bach), Peregrine (hebog tramor), Red Kite (barcud), Sparrow hawk (gwalch glas) and in Wales they are a welcome refuge for the persecuted Hen Harrier (boda tinwyn).  Upland ponds provide homes for a plethora of invertebrates and the associated amphibians which feed on them and the surrounding acid grasslands often house some surprising botanical treats such as wild thyme (teim gwyllt), sundew (gwlithlys), bog pimpernel (gwlyddyn-Mair y gors) and ivy leaved bellflower (clychlys dail eiddew).
All of this can be explored under the watchful eye of the Ravens (cigfran or meat crow) that are abundant in these areas and the skies are often full of the wonderful cronking call.
Spotters guide
Below is a guide to some of the amazing wildlife you can see in the Uplands
Gwent uplands
Here's some local Upland habitats to visit
Coedcae /transitional habitat
There are many examples of this habitat but a good place to start if you want to venture to the far western boundary of Gwent is to start from Bedwellty Pits, Tredegar.  Park courteously near the start of the public footpath and then follow NE over the Sirhowy river from there you can choose a variety of routes uphill through this wonderful wild habitat.
Upland Broad leaved woodland
An easy site to explore (as easy as a woodland on a steep sided slope can be) is Silent Valley nature reserve above Cwm in Blaenau Gwent.  This Gwent Wildlife Trust nature reserve is a wonderful example of a Beech woodland interspersed with some Oak, Alder (gwernen), Willow (helygen ddeilgron) and Ash.  It is full of wildlife all year but is particularly impressive in May with its carpet of Bluebells and abundant bird life.
Coal Spoil
There are many of these sites available to visit and each is in a very different stage of recolonization by nature so visit as many as you can to gain an insight into this wonderful habitat.  Some good examples are Dare valley park in Aberdare, The British near Abersychan and the many tips near Garn-yr-ew and the Big Pit mining museum.
Upland environments
A general guide to Upland habitats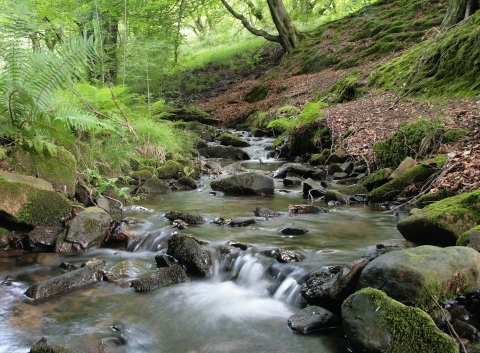 Silent Valley Nature Reserve