Tales from the riverbank with Jeff 'Otterman' Chard
Gwent Wildlife Trust volunteer, supporter and keen photographer Jeff 'Otterman' Chard is the UK Wild Otter Trust Ambassador 2020.His title comes in recognition of his commitment to Otter conservation, education and promotion. Read his blog to find out more about his passion for Otters and the amazing and inspiring work he does helping them and other wildlife.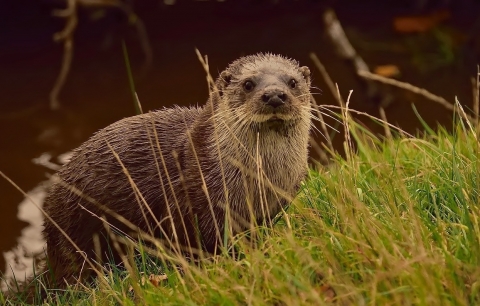 I recall that on a cold winter's evening in January 2011, I watched Iolo Williams, Welsh naturalist, TV presenter and now patron of Gwent Wildlife Trust, presenting a nature programme on TV and discussing the "return of Otters" in the UK.  I was intrigued by his comments, as I knew very little of these creatures and had never seen one in captivity, let alone in the wild. So, inspired by Iolo, I set out on an even colder winter's morning, Sunday 30th January 2011 to be exact, to look for one.
Dressed for a very frosty morning, equipped with a pair of binoculars and a small digital camera, I explored the ponds and waterways of Parc Penallta, my local countryside park, for signs of Otters. I had no joy at the park due, no doubt to the fact that I really had no idea what I was looking for! Undeterred and encouraged by a single paw print of some sort, beneath a low bridge, I followed a network of water courses until I found myself at the River Taff at Quakers Yard. 
I followed the bank of the Taff as closely as I could and scoured the river ahead of me with my binoculars, in the hope of seeing a brown, furry animal swimming upstream. After another mile or two, and four hours since leaving home, I decided to call it a day. But, as I lowered my binoculars following one final sweep of the Taff, I turned and saw something swiftly rise and fall midstream. I gasped out loud, as from what I remembered from Iolo's programme, it could only have been an Otter.
I crept away from the riverbank, to the base of a tree, sat on a log, switched my camera to video and watched in awe for over 20 minutes, as the Otter effectively caught prey after prey. Presumably satisfied, the Otter swam to the far bank directly opposite me, groomed a little and curled up amongst some mossy rocks and fell asleep under the only ray of sunshine falling through trees, from an overcast sky. From that moment I became hooked on Otters and since then, I have taken every opportunity to look for and study them. 
To successfully find and watch wildlife, it is very important to research your subject, especially to be able to identify field signs. I spent a considerable amount of time searching the internet, reading books on Otters and actually searching for signs, before I spotted my next Otter in the wild and it was no less of a thrill than the first. Regardless of my personal objectives, the welfare of the animal is paramount and I make every effort to ensure that my activities do not disturb it in any way.
Encouraged by staff at Gwent Wildlife Trust's Eastern Valleys Team, where I've been a volunteer for five years or so, I attended Otter Surveying and Habitat Assessment courses and some time later I was asked if I'd like to present a talk on Otters, on behalf of GWT. My Otter related activities have mushroomed since spotting my first Otter and in addition to my various GWT volunteering roles, have included surveying for Otters, delivering Otter survey courses, presenting Otter talks and events (over 30 in 2019), occasional guided walks, assisting the Cardiff University Otter Project team with Otter post mortems and supporting the UK and South Wales Otter Trusts.
In recognition of promoting our Otters, conservation efforts and educating a variety of wildlife and community groups, I was awarded Otter Ambassador for 2020 by the UK Wild Otter Trust.
Basically, this will entail continuing my activities throughout the year (albeit severely curtailed by Covid-19), which won't be too onerous, as anything involving Otters is a joy, not a hardship. And I'm sure I'll still find time to for a bit of Otter spotting and presenting my talk on Kingfishers, but that's a story for another time……..