People's Postcode Lottery is a charity lottery raising funds for, and increasing awareness of, charities and good causes across Great Britain.
The Wildlife Trusts are very lucky to receive generous support from players of People's Postcode Lottery. People's Postcode Lottery is a charity lottery in Great Britain where players play with their postcodes whilst raising money for charities. 
Wildlife Trusts in Wales have received valuable funding from players of People's Postcode Lottery which is distributed between the five local Wildlife Trusts in Wales. This enables them to continue delivering education opportunities and events for local communities and schools, as well as maintaining reserves and wildlife sites around the region, continuing our vital conservation work.
Thanks to the support of players of People's Postcode Lottery, The Wildlife Trusts will inspire and connect people to nature through precious species and wild places, provide thousands of children of all ages with opportunities to spend time in nature through outdoor learning activities and will stand up for and defend wild places when they face significant threat.
Gwent Wildlife Trust received £65,409 from the players of People's Postcode Lottery in 2020. This year thanks to the players of Peoples Postcode Lottery we have been able to manage and maintain some of the most important sites for threatened wildlife in Gwent and inspire young people to take action for wildlife in their local area.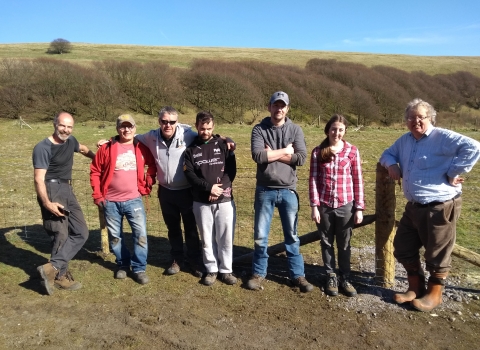 Highlights of the year
Our Woodland Conservation Officer coppiced 0.76 hectares of woodland at our Croes Robert Nature Reserve enhancing the habitat for the early purple orchid, resident dormice, silverwash fritillary butterfly, willow warblers and many more species reliant on open areas of woodland.
A veteran tree survey discovered the United Kingdom and Irelands largest pear tree – a girth measurement of 4.26m metres!
GWT delivered 12 training courses and events for 73 volunteers supporting them to develop new skills and gain accredited qualifications
Our volunteers have supported us to deliver vital wildlife surveying across Gwent, increasing the data we have to monitor the wildlife on our nature reserves and in the wider landscape
Our Community Education Officer and Reserves Officers have used the Environmental Resource Centre in Ebbw Vale as a base for community engagement, they have reached approximately 870 members of our community to raise awareness of wildlife and the nature on their doorstep.