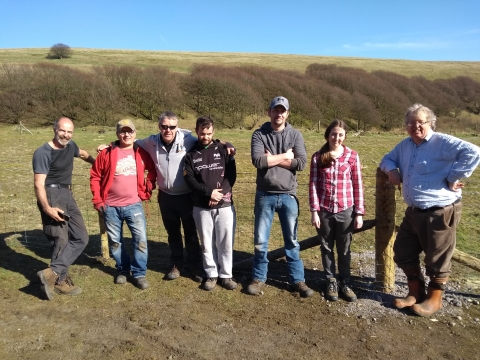 Eastern Valleys Worktasks
Current volunteers: This page will be updated weekly to inform you where the next volunteer work task will take place within the Eastern Valleys landscape area. Please check here each Monday and Wednesday before the work task, in case last minute changes have been made.
Interested in volunteering: We're running work tasks in the Eastern Valleys region every Tuesday and Thursday from 10 am, usually until 3pm. Sometimes the tasks carry on until later, and if you wish to stay on the help is always appreciated. 
If you're interested in taking part, please fill in the form below. If you'd like a chat first, please contact Tom Eyles on 01600 740600 (choose option 5) or 07788 565459. or email: teyles@gwentwildlife.org
The work is varied throughout the year but there is always something for people of all abilities. we will provide all tools and protective equipment but please wear sensible clothing for the time of year and sturdy work boots (steel toe caps if you have them) and bring a packed lunch.
We look forward to seeing you there!

Eastern Valleys reserves officers
Tuesday
Join Senior Eastern Valleys Reserves Officer Tom Eyles for a day of practical conservation work.
Thursday
Thursday 23 January - We will be working at Strawberry Cottage Wood, Abergavenny. Clearing a fallen ash tree.  Look forward to seeing you there.