Alison Willott - Chair of Trustees
Alison has always had a particular interest in plants and gardening. She and her husband moved to Wales 25 years ago, to an 18-acre holding, where they have hens and lots of wildlife, including rabbits, small mammals, owls, and a wide range of birds. Their garden is maintained to be wildlife-friendly and has been opened annually in aid of the Wildlife Trust. Alison is now retired, but over the years has been a civil servant, a teacher, a professional singer, a magistrate, a case worker and a debt adviser for the Citizens' Advice Bureau! She has been Chair of the Monmouth branch of the Trust for about eight years, and a trustee for six years.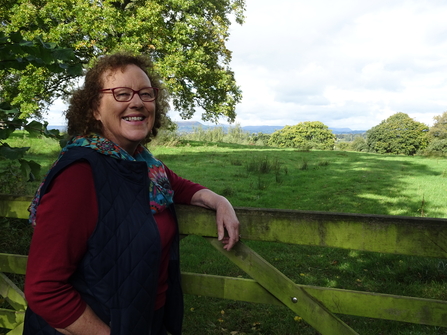 Robert Waller - Vice President

Rob has been a trustee since 2012 and also volunteers for the Trust with the Levellers group based at Magor, and monitors mammal rafts there and bird boxes at Springdale. A retired civil servant with the Welsh Government he was a professional town planner for many years before moving to other areas such as finance and economic development. He lives in the centre of Newport.
Sue Finn - Secretary

Sue has been interested in all aspects of the natural world since childhood. She spent her 38 year career teaching in primary, secondary, and special needs settings, developing children's curiosity in their natural surroundings. This did not always go smoothly. Rescuing escaped snails from a classroom ceiling was an interesting challenge!  In 1989, Sue moved to work with the Educational Psychology Service which included running In-Service training for teachers. During the latter part of her career, she worked in nurseries and reception classes, researching the problems of poor language skills and implementing language enrichment programmes.

Since retiring, Sue has travelled around the world with husband, Roger. She remains an enthusiastic bird watcher and monitors a bird box round on the Wyeswood reserve. Sue also enjoys baking and provides cake for Trust committee meetings.
Chris Duncan - Treasurer

Chris' background is in engineering with significant commercial expertise in running manufacturing businesses. He is currently also a trustee of the Small Woods Association and a school governor in Bristol.
Rebecca Spooner

Rebecca is based in Abergavenny and is Curator for South Wales with the National Trust. She has a professional background managing creative participation, community engagement and site-specific arts projects in rural Wales. Rebecca completed a Clore Fellowship, supported by Arts Council of Wales in 2018. 
Tom Clancy

Tom has a background in environmental impact assessment, having previously worked in consultancy. He is currently a regional environmental adviser for Highways England. He authors industry guidance and provides technical advice to project teams for environmental assessment and enhancements across the Highways estate. 
Natasha Harris

Natasha is a Psychology graduate and trainee counsellor who works within health and social care. She has an interest and passion in using nature based programmes to help with mental health and wellbeing, and has experience in developing and delivering these programmes. 
She has a back ground in working in animal/environment roles during her time within the RSPCA, veterinary care assistant roles and within Planning and Public Protection. 
Dai Rees

Since leaving school at 17 Dai has always been involved in conservation/wildlife management in Wales, England and Scotland. Currently Dai works for Butterfly Conservation as their Head of Conservation in Wales, Scotland and Northern Ireland. Previously he worked for Forestry Commission Wales as Head Wildlife Ranger, Area Manager in the Wye Valley and more recently for NRW in their South West region as Land Management Team Leader, working with a team responsible for the day-day management of 32,000 hectares of forest & woodland habitats.

He maintains a keen interest in woodland and forest management, particularly raptors associated with these habitats and is now improving his knowledge of moths, butterflies and their habitats